When:
May 25, 2019 @ 5:00 PM
2019-05-25T17:00:00-05:00
2019-05-25T17:15:00-05:00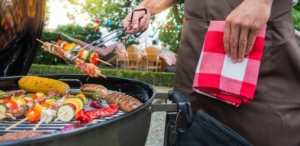 It's time for another Meridian Meat Mafia Charity BBQ. Get ready for an awesome afternoon of delicious BBQ and fantastic sides.
IMPORTANT: This years BBQ is on Saturday, May 25. We'll start serving at 5:00. Please bring sides by 4:30
Please join us at the Meridian Pavilion, on Saturday, May 25 for a BBQ to raise funds to support Casa ( https://casaforchildren.org/ ). The National Court Appointed Special Advocate (CASA) Association, together with its state and local member programs, supports and promotes court-appointed volunteer advocacy so every abused or neglected child in the United States can be safe, have a permanent home and have the opportunity to thrive.
The Meridian Meat Mafia will be providing delicious smoked brisket, chicken, pork and sausage. Please bring a side dish. Please use the sign up genius link to sign up for sides:
https://m.signupgenius.com/#!/showSignUp/60b0d44a5a628a20-meridian1
Suggested donation is $20/plate (use your own judgment for kids).
A huge thank you to our sponsors: (If there is anyone else that would like to get in on this awesome charity event, please let us know)
– Bell's Beer will have beer – https://www.bellsbeer.com/
– Resonate Church is providing a bounce house for the kids – https://resonateaustin.org/
In addition to the delicious BBQ, we also have some fantastic silent auction items and events:
• Silent Auction
o Torchy's
o Jersey Mike's
o Professional Auto Detailing services from Lee Gonzales
o Craig O's
o (contact us if you have anything to donate for the Silent Auction)
• Cornhole Tournament
o $20 per 2-person team
o All money will be donated to the charity
o Single elimination
o Winning team gets $100 – $50 per team member
• Best Mac and Cheese competition
o Judging starts at 4:45 so that the remaining Mac and Cheeese can be served to public. Have your Mac and Cheese at the pavillion by 4:45 if you want to be entered
o This is in addition to other sides – so please bring other sides as well
o 7 person judging panel
o The winner gets $50 and bragging rights as the best damn Mac and Cheese chef in the hood